Description
QT 4-15c fully automatic block/brick making machine production line
■ Introduction of this full automatic brick machine
QT4-15 multi functional full automatic block machine, capable of making different specifications and forms of road paver, hollow brick, solid brick, curbstone. To achieve fully automatic production, this machine adopts computer PLC central control system, this could save lots of labor cost. Using four – bar – oriented method and ultra – long – oriented bearing, precise movement of the mould and press head could be guaranteed, which extends the service life of this block machine price. The body of QT4-15 are made of super steel, using special welding technology, but this machine price is not so high among the automatic block making machine market, which makes this machine a good investment. The products are of high strength, good compactness, the appearance size is accurate, and there is no shape rules or off angle. You can trust our machine price, we offer one year guarantee, and you can always call us for technique support.
1. Advanced drive by wire technology and hydraulic conveyance system can assure you an easy operation and well performance.
2. QT4~15 China Famous brick machine will make more blocks than others you may get from other sources,which suit to you who need more solid blocks.
3. The speed of making blocks will be more higher.it has an easy operation with little error.
4. As for the quality of it, i must say that we use the steels of high quality,which was produced by JI steel making company known to all throughout China.,the quality of our machine is guaranteed.
5.The mold use the technology of carburization heat treatment ,which can give you a guarantee that there are will no transformation with 4 million blocks about 6-8 months.
6. It can produce different kinds of blocks with change of mold.
7. The materials can easily get and the source of material are wide enough to get.
8. Our product is value for money, high technology, high  quality, high efficiency will give you a high return rate, so this kind of machine will be your best choice.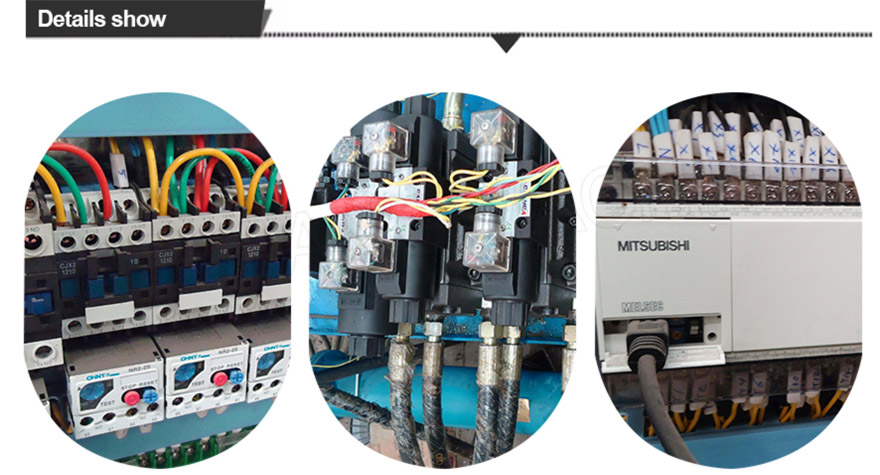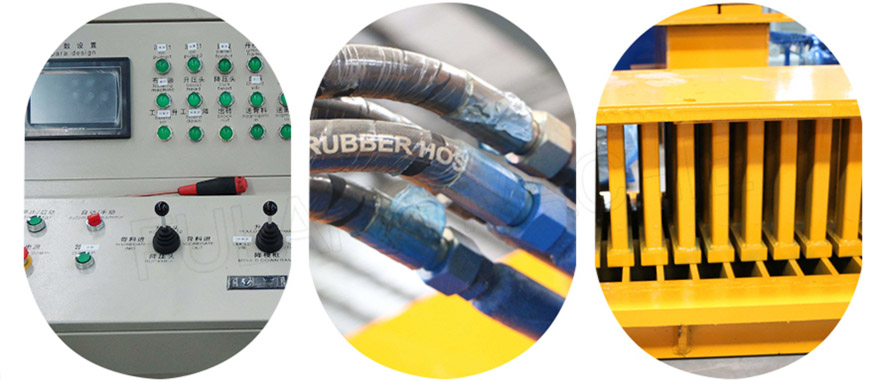 ■ Main technical parameters
Theoretical Data

 Dimension of host machine
 4000x1800x2800mm
 Main vibrator style
 lower mould vibration
 Number of hydraulic vibrator
 2
 Control style
 PLC
 Forming style
 hydraulic
 Number of motor vibrator
 2
 Hydraulic cylinders
 2
 Hopper capacity of concrete
 0.3 M3
 Feeding style
 360degree revolve
Moulding area
 1010×600 mm
 Forming height
 40-250mm
 Moulding period
 15-20 S
 Vibration force
 40-50 kn
 Forming blocks per mould400x200x200mm
 4
 The size of the pallet
 1010×550 mm
 Weight of the host machine
 5T
 Mixer style
 JS500
                                               Water and Voltage
 General water Consumption
 5-6 T
 Voltage
 220v/380 V/420v/440v
 Power
 21.7kw
                                              Simple line Used Area
A.     Production area excluding concrete mixing zone
 M2
 300
 B.  Concrete mixing zone area
 M2
 170
B.     Finished product Warehouse
 M2
 800
 E.  Raw material storage
 M2
 700
 F.  office
 M2
 100
 G.  Total area
 M2
 2070
                                          Practical workers arrangement
 Control/operation
 1
 Wheel loader
 1
 Forlift/pallet added
 2
 Repaire/maintain
 1
 Sum
 5
                                              Production capacity
 Size(LxWxH)
 Pcs/Mould
 Pcs/ Hr
  Pcs/8 Hr
 400X100X200
 8
 1440-1680
  11520-13440
 400X150X200
 6
 1080-1260
  8640-10080
 400X200X200
 4
 780-840
 5760-6720

■ Customer visiting
Till now,about 1200 customers have visited our factory.Also we have engineers staying abroad to help you install machines and training your workers at your side.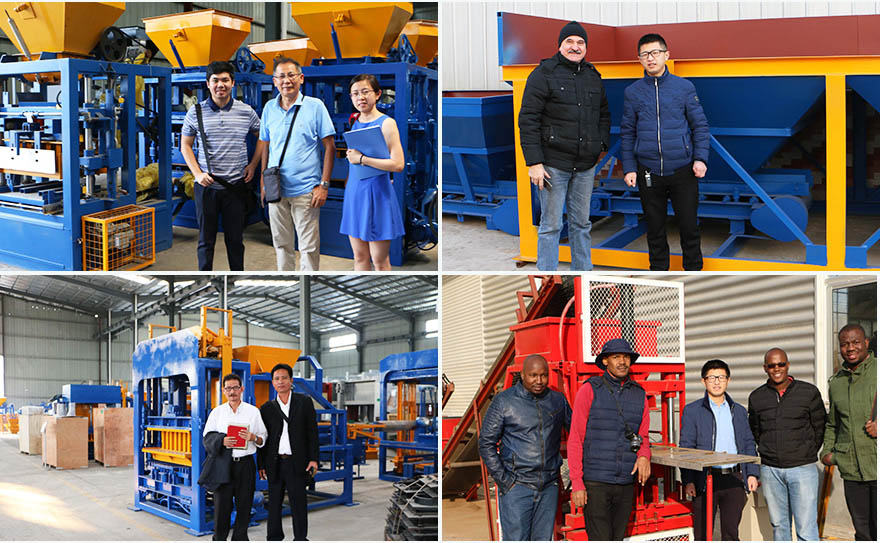 ■ Engineers are available for installation abroad