Today let's make a detailed introduction to this fully automatic concrete block making machine.
Main technology parameters of this block machine 
The Exciting Force of this block machine is 80KN
The Vibration Frequency of this concrete block machine is 0-60HZ.
The Power of the host block machine is 47.78 kw.
The Molding Method of this concrete block machine is vibrating and hydraulic pressing.
The Control Mode of this automatic block machine is Full automatic PLC control.
The Molding Cycle of this block-making machine is 15-20s.
The Frame Dimension of this fly ash block machine is 8900×2200×3120mm
The Weight of the Host block Machine is 13T.
The Pallet Size of this brick machine is 860×860mm.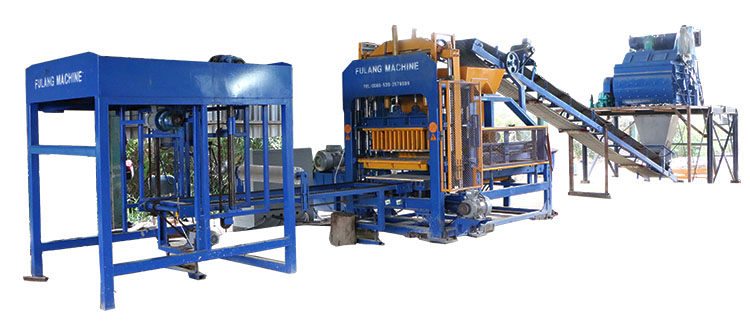 The molding system adopts gear mechanical forced synchronization. This can ensure stable up-down while demolding and enhances the finished concrete block quality.
The demolding slide of this cement brick machine adopts liner self-lubricated materials-copper bush.
This block machine applies intelligent dynamic hydraulic adjustable technology. This ensures each action runs stable, eliminates the damage to the block machine.
Both wind and cooling systems to ensure suitable working temperature. This is very import for automatic concrete block machine.
Full rang of Siemens sub-version of the inventor, air switches, buttons, remote monitor, dignosis and trouble shooting etc.
Touch screen of this block machine has auto lock function to avoid human error operation.
The block machine has inner material cart. It is a forced arch broken device. And it can effectively prevent the material from aggmolerating.
Maintenance of this concrete block machine.
Normal use and maintenance are important factors. And it can prolong the service life of the block machine. The relevant matters for attention are as follows:
A: The navigation and firing pin systems should be refueled each shift.
B: Electrical installation should be protected from oil.  And water and the machine should be clean.
C: The vibration box and reducer should be checked.  And it should be replaced with lubricating oil regularly. This need usually once every three months.
D: During the operation of the block machine, hands or other thin objects shall not be placed on the operating parts.  This is to ensure production safety.
E: The button of this block machine should be very good. The body should have grounding screw, and do grounding protection.
F: When repairing or inspecting a machine, the power supply should be cut off before it can be done.